ANTERIOR APPROACH by dr. De Loore & dr. Van Quickenborne
POSTERIOR APPROACH by dr. De Smet & dr. Van Quickenborne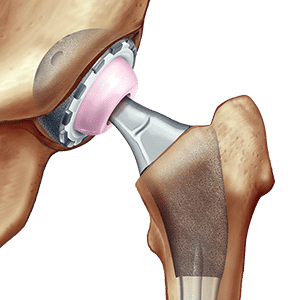 Titanium ingrowth prosthesis,
CoC: cERAMIC oN CERAMIC
The vast majority of placed prostheses in the world are Total Hip Prostheses. (99%)
We place a titanium ingrowth prosthesis, so it has to grow into the bone.
The frictional torque between the two components is Ceramic on Ceramic (=CoC)
– No allergy to titanium or ceramics
– Very wear resistant
We see a survival of this prosthesis of  92% over at least 15 years (92% survival > 15 years). This means that with this type of prosthesis (THP) 92% is still in place after 15 years or longer. We expect that most patients will be able to have their prosthesis in place for life.
tHE ANTERIOR APPROACH
The Total Hip Prosthesis is placed according to the anterior approach. Dr. De Loore is an international reference surgeon for this technique. This technique requires experience and expertise: with more than 3000 anterior hip surgeries, this expertise is readily available in the Anca team.
With this technique, no muscle or tendon is cut or loosened. This promotes short-term rehabilitation and maintenance of strength. After full recovery, there are no restrictions and all activities can be resumed. However, we know from experience that high-impact contact sports are more difficult for such prosthesis. It is allowed however, the prosthesis will not break.
The biggest complication with any orthopaedic procedure, and therefore also the placement of a THP, is an infection. The Anca team works in a standardised way with its own permanent team of nurses, and therefore also scores with one of the lowest chances of infection in Belgium.
The prosthesis is fully reimbursed by the health insurance company and has excellent long-term results.
Frequently asked questions